WWE 2K14 is unique amongst the other games that SuperGreatFriend has played, in that it is a custom story created by him and one of the central pillars of his continuity. While something of a story was in the making as Bully Demise hopped from one M. Dickie game to another, the story was largely dictated by gameplay. Aside from featuring direct storytelling from SuperGreatFriend, the series is a large crossover for various characters from games he has played to interact with one another.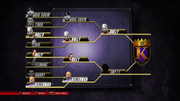 The series still largely stars characters from M. Dickie games, most strongly Bully and The Mystic, as well as introducing several new characters from the game's actual universe. The only especially notable characters from other series are Killerman and Jorg. That said, the other characters make up more than just cameos, as they get full wrestling matches.
An element of the series borrowed from VGCW is that the matches are not played by SuperGreatFriend. They take place between computer controlled wrestlers, and SuperGreatFriend simply announces the matches as they happen. SuperGreatFriend has to plan the plot based off the possibility of either candidate winning, though it largely appears that Killerman will simply kill anybody who beats either him or Demise, based off the fate of Big Show.
Characters
Edit
WWE 2K14 consisted of 13 episodes, ending on July 19th 2014.
Video

Episode No.

Tag Line

Featured Match

Stream date

1
Wrestling Adventures Await!

Bully Demise VS Crash Cougar

Bully Demise VS Heavenly Bobby

May 3rd 2014

The two big-name stars of 'Wrestling school' (Heavenly Bobby and Crash Cougar) are chasing deals with the WWE. It is revealed Coach Emerson is responsible for sabotaging wrestlers who don't follow his instructions by removing all pens with ink during the contract signing, which he does to Heavenly Bobby.

Bully Demise returns from the dead and throws Emerson into hell. Crash Cougar, jealous of the attention Bully's ressurection has caused on his "Big night", challenges him to match, which Bully wins. Bully announces he's finally signed with the WWE, and Heavenly Bobby also challenges Bully to a match due to Bully "stealing" his WWE contract, Bully wins again.

2
Bully's first fight in the WWE!
Bully Demise VS Santino Marella
May 10th 2014

A very enthusiastic Bully prepares for his first match in the WWE by having an Italian meal with his boss, wrestling the floor, and chatting with the Undertaker (retro) . Their chat is cut short by Bully's first match, Bully defeats Santino Marella, who is murdered directly after the match by an unknown party. A freelance reporter Jorg Baker overhears about the incident and begins investigating.

Big show begins a feud with Bully, claiming he (Big Show) is the only big man in the WWE, It's also revealed during another dinner that Bully fell onto 'Hard times' because of an attempt to pay his taxes in stomps.

3

What could possibly be the cause of wrestling murder..?

Bully Demise VS Brodus Clay
May 17th 2014

Vince McMahon breaks the news to the WWE community that Santino Marella has passed away (although he claims due to 'old age'), and sets up the perfect cover story for the investigation: Jorg will be hunting the person who stole John Cena's birthday cake. 

Bully sets his mind on entering the King of the Ring tournament, much to the displeasure of Big Show and Bully attempts to prove himself during a match against Brodus Clay, but loses.

Jorg has a vision of being in a white room with Andre the Giant, who tells him 'It is HAPPENING. AGAIN'. This leads to the reveal that Brodus Clay has also been murdered.

4
Oh Bully, accused of wrongdoing once again.
Bully Demise VS Christian
May 24th 2014

Bully shares another Italian meal with Vince McMahon, and is told he'll need to prove himself if he wants a place in the King of the Ring after his loss to Brodus Clay. Bully wins his next match against Christian and becomes a victim of an unprovoked attack by rival Big Show.

While searching for Big Show, Bully is found by Jorg, who takes him away for questioning over the recent murders of his wrestling opponents. Jorg tells Bully he can't wrestle anymore, but discovers Bully had just finished wrestling Christian when he found him.

A visit from Andre confirms that "IT IS HAPPENING. AGAIN" and Christian is murdered by the mystery killer, who is revealed to be none other than Killerman. Jorg and Bully give chase, but Killerman uses his 'pro-athelete level jumping' to escape.

5
The king of the Ring tournament begins!
Big Show VS Tuba
June 7th 2014

With the identity of the Killerman now known (it's Killerman) Jorg begins to put the pieces together; linking Bully's history of voilence, murder and cannablism to the vengeful spirit that's murdering WWE superstars.

Meanwhile the King of the Ring tournament kicks off, with Big Show defeating Tuba (MODE) and advancing to the Semi-finals. Brodus Clay's empty slot is filled by Bully Demise.

Undertaker (retro) reveals to Jorg and Bully that Killerman is not the only entity to follow Bully back from the afterlife. It's also explained that the WWE World Title is a powerful mystical object overflowing with 'Ma'jyicks'.

As the episode closes it is revealed the second entity is 'The Mystic', who is working with Killerman for unknown reasons.

6
What are the Mystic's plans for the WWE?
Billy Bishop VS Fleming
June 21st 2014

The Mystic lays out his demands; he will agree to make Killerman stop murdering WWE superstars if Vince McMahon agrees to enter Killerman in the King of the Ring tournament, McMahon agrees.

In the King of the Ring tournament Billy Bishop of 'Spy Fiction' defeats the Dark Lord Fleming of 'Shadows of the Damned' to advance to the Semi-finals.

The Mystic, during a conversation with Killerman reveals his plan to have Killerman win the King of the Ring, defeat Undertaker (retro) and win the WWE World Title, harnessing it's power.

7
Bully's first King of the Ring match! But what dangers might lurk around the corner?
Bully Demise VS Dio
June 21st 2014

The episode opens with Killerman in a black void, ranting about 'Stomping the world'. Bully senses this disturbance in the stomps, saying he felt like he was elsewhere for a moment.

The Mystic, during a heated discussion with Bully and Jorg, reveals he is the master of limbo. He seeks to destroy Bully Demise in revenge for Bully for destroying his realm during the events of 'Wrecked'... however he adds this is only 'part' of his motivation, as he is only doing as 'The Creator' wishes.

Bully and Jorg decide the best plan to stop Killerman is to defeat him in the King of the Ring final. Bully goes on to win his first 'Kingaling' match against Dio (Virtues Last Reward) with ease.

Meanwhile Jorg is suprised to receive another visit from Andre in the white room. Despite the Mystic's promise, Andre informs Jorg that it is happening. Again. While celebrating his victory Bully Demise is ambushed by Killerman, with potentially fatal consequences. 

8
Killerman's first match!
Killerman VS Brainless Randy
July 5th 2014

The episode opens with Bully in a Coma/Trauma/Death induced vision of an alternate WWE featuring a zombie Coach Emerson (Coach Emorson), The Jorgtaker (Jorg Bakor) and an abomination replacing Vince McMahon for another Italian dinner date. Andre informs Bully he shouldn't be here yet and sends him back to the land of the living.

Upon waking up Bully learns he was saved from death at the hands of Killerman thanks to Big Show 'getting up in Killerman's face'. In the King of the Ring, Killerman has his first match, dispatching of fellow Illbleed character Brainless Randy to advance to the Semi-final.

9
It's time: Bully Demise vs. Big Show!
Bully Demise VS Big Show
July 5th 2014

Bully Demised recovers from Killerman's near fatal attack to prepare for his Semi-final against rival Big Show, but stops for a chat backstage with the big man himself first.

Big Show tells Bully that he's ruining the tournament, turning the whole thing into 'some kind of ghost story that's all about you'. Big Show explains he has earned his spot in the tournament and refuses to become a meaningless character in Bully's story.

Big Show and Bully face off in their King of the Ring Semi-final, and despite an admirable effort to defy the fate of pro-wrestling storylines, Big Show is defeated in an extremely close match.

After the match Big Show confronts Vince McMahon about Vince's intentions to replace him with Bully Demise. Vince assures Big Show this isn't true, and Bully, Vince and Big Show make amends. However this is cut short when Killerman appears and attempts to attack Bully with his chest laser, Big Show blocks the shot and is killed.

10
Bully's mad, and everyone better get out of the way!
Killerman VS Billy Bishop
July 12th 2014

After the death of Big Show, Vince McMahon has to be stopped by Bully from disquilifying Killerman from the King of the Ring, saying 'It would be the easy way' and Big Show wouldn't approve. Bully passes on the message he received from Andre the Giant to Jorg and with the help of Undertaker (retro) they begin to hatch a plan to deal with Killerman and The Mystic.

Killerman defeats Spy Fiction's Billy Bishop and qualifies for the final against Bully Demise. The Mystic also reveals his goal, to revive Shadow the Final Destroyer (D2).

11
It's time for the King of the Ring finals!
Bully Demise VS Killerman
July 12th 2014

Bully and Undertaker (retro) finalise their plan to seperate Killerman from The Mystic during the King of the Ring final, in an attempt to make Killerman vulnerable enough for Bully to be able to defeat him. It's also revealed that Bully had the ultimate weapon against Killerman all along... Love (although a shotgun helps too).

Springing their trap; Jorg ambushes The Mystic backstage with (retro)'s Ma'Jyckal ritual, knocking him out long enough for Bully to be locked in a pocket dimension (which looks just like a regular Hell in a Cell cage) with Killerman for their final battle. After an incredibly close match Bully Demise defeats Killerman with the power of love (mostly delivered through his boot).

Curiosity gets the best of Bully, as he removes Killerman's mask to reveal Killy Demise, a dark reflection of himself was under the mask all along. Bully takes it all pretty well, locking Killy Demise in the Monster afterlife and dooming him to watch Slenderman videos for what will probably SEEM like an eternity. Vince McMahon also gets payback in the form of vehicular homicide against The Mystic.

12
Bully vs. Undertaker (Retro), with the title on the line!
Bully Demise VS Undertaker (Retro)
July 19th 2014

With the Mystic and Killerman defeated all that remains is for Bully to take on Undertaker (retro) for the title. Before going to the ring, Bully chats with Jorg, who finally gives up convincing Bully he isn't called York, and reveals he intends to change careers from journalism into something where he can utilise his deductive skills more often; somewhere like the FBI.

Bully beats (retro) in yet another close match. Highlights include Bully being caught jumping from the top rope and surviving a tombstone piledriver.

Bully's journey is complete, and as he holds up the belt everything fades to white.

13
How does Bully's story end..?
Bully Demise VS SHADOW THE FINAL DESTROYER
July 19th 2014

The season finale sees Bully in the white void, as it's revealed Andre the Giant was Jesus all along. Now Bully has won the title belt his work is complete, and he must leave behind his new prize in order to proceed to the afterlife. Jesus calls the help of Mommy and Daddy Demise (who's souls must have been freed from their sword since Wrestling Revolution) to help convince Bully.

However their efforts are interrupted as SHADOW THE FINAL DESTROYER remains intent to invade the living world, resulting in Bully facing him in one final match, which is won thanks to Bully performing Big Show's trademark knock-out punch.

Bully ascends to stomp spiritual demons and space monsters in the afterlife.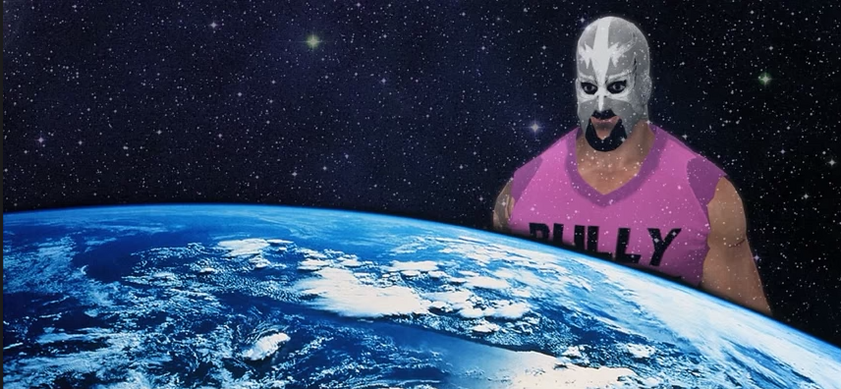 Soundtrack
Edit
Supergreatfriend's WWE 2K14 Custom Storyline features music from the Youtube Audio Library; copyright-free music for use in Youtube content.
Some of the tracks featured are:
Jazz In Paris - Media Right Productions
Used as the 'Italian dinner' theme, and later used to represent general hijinx.
Accidents Will Happen - Silent Partner
Used for Bully's first fight in the WWE against Santino Marella.
Crimson Fly - Huma-Huma
Faux Daft Punk sounding track used in the later episodes. The track would later become SGF's opening and closing theme for 'Games Night'.
Chaos - Gunnar Olsen
The spooky theme used during Bully's near death dream sequence in Episode 8. It also became used as the opening and closing theme for 'Scary Games Night'; the horror themed 'Games Night' throughout October.
Grass - Silent Partner
The exposition song, used for heavy character development and plot details after the point where Bully wakes up from his Killerman coma.