PlayingVideoGames is a twitch channel hardcore gamer.
Description
Edit
PVG is an hardcore gamer, and specializes in FMV games from the 80s. She streams once a month, and she usually 100% completes two FMV games per stream. Her page is protected by a password so that only the most hardcore of gamers might watch her play all the video games. 
Her catchphrase is '[game title], you are now a PLAYED VIDEO GAME!', which has won the award for best catchphrase of anything ever.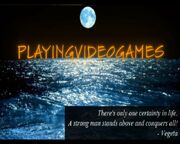 Her relation to SGF is still unknown; however she was one of the characters SGF played during the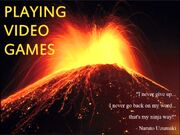 Strange Loves: Hex Boyfriends stream. 
During her latest stream, PVG said she 'would never show her cleaveage during a stream', confirming that she is, in fact, a gamer girl. 
PLAYED Video Games
Edit
Hercules (viewed with Supergreatfriend)
The Adventures of Hercules (viewed with Supergreatfriend)
The Adventures of Baron Munchaussen
Remo Williams: The Adventure Begins
Santa with Muscles
Santa's Slay
The Last Starfighter
The Adventures of Mark Twain
Xanadu
No Holds barred
Super Mario Bros. 
Double Dragon
Flash Gordon
Zardoz
Kinu Nishimura's beautiful tale of love
Edit
https://docs.google.com/document/d/1ayc3uVNlbS9cuhJL9hIZytvdwKhGTX643o18bCIcVNI/edit?pli=1
This amazing work of narrative was later confirmed as "canon" by SGF through his tumblr page and during stram.