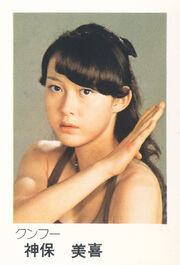 Kung Fu is a playable character in the House FMV game.
Characterization
Edit
She is the character with the most stamina & fighting ability. She is able to learn endgame combos pretty early on in the game. She also quite possibly is a super saiyan, however this has yet to be verified.
Unfortunately, even in the 100% best ending, she ends up dying. But the PVG fans will NEVAR FORGET. 
She is also known to be Xed51's waifu.