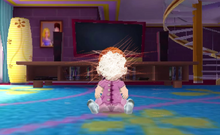 Jessica ... oh Jessica, is a little girl who didn't appear in 'I love my little girl' for the Nintendo 3DS.
SGF only has one child, a little boy, he has never had a little girl... I just... you have to just believe me okay...? The doctor would never have missed something like that... the only thing that makes sense is that... there never was a sick little girl at all.
Nobody would allow a sick little girl to enter the ball competition in that sort of state... people just wouldn't let that happen. Just... don't show SGF a ball, Okay? Some keep landing in his yard when he takes his little boy out for a walk, he picks them up and just stares... whatever he sees must remind him of what happened that day... what? No, It's nothing. It couldn't have happened. The world can't be that cruel.
Oh Jessica...