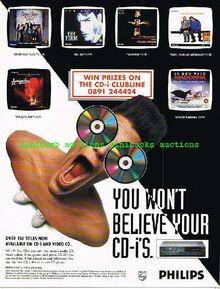 Interactive Multimedia Entertainment is the newest groundbreaking medium coming to you from Philips, which allows you to play interact with some of the most rad new games multimedia on the market!
With the Philips Compact Disc-Interactive gamers interacters can experience never before seen graphics stored on a compact disc! But this isn't your grandfather's media, this is media you can play interact with!
Do you like Dinosaur Education? Do you like Thunder in Paradise? DO YOU LIKE THELMA AND LOUISE? Then you won't believe your CD-Is when you see our line-up of media ready to entertain you.
Are you tired of the single media your kiddie 'games console' can produce? Well for the low price of $700 you can get MULTI-media all in one box, right in your own home!
Looks like it's game-over interaction-over for those chumps at Nintendo!