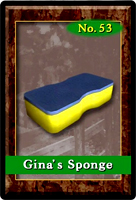 Gina's Sponge is a trading card and fan-favorite character from Deadly Premonition.
Providing comic relief and intrigue throughout the game; Gina's Sponge had a nasty habit of getting itself (and Gina) into several scrapes with hilarious consequences. 
Whether it was cross dressing, stealing human remains from a graveyard or becoming the prime suspect in a murder investigation; Gina's favorite sponge (Gina's Sponge) become the most memorable part of an already memorable game.
"Deadly Premonition: Directors Cut" received 3 DLC packs with additional skins for Gina's Sponge, which were bundled into the Steam version when it was ported to PC in October 2013 
Deadly Premonition 2
Edit
Although hard confirmation hasn't surfaced, it is rumoured that Gina's Sponge may play a pivitol role in Deadly Premonition 2. On March 21st 2014 swery posted a picture of a mug featuring a cleaned car and the letters GS along with the message "You can't clean the past as easily as cars #GSinthecoffee #DP2".
The mysterious tweet may allude to DP2 featuring more of the backstory of Gina's Sponge, a hotly debated topic on fan-forums worldwide which famously lead to Swery himself having to step in to debunk the "Twin sponges" theory once and for all.